Today sees the launch of the Germania 2022 Allegories Polonia & Germania coins. These are now available to purchase on our website for immediate shipping.
The Allegories is just one of the numismatic series from Germania Mint. This series has been an annual release with 2022 being the fifth in the line. Each of Germania's numismatic series is designed around a central, prominant theme. For the Allegories it's the personification of certain regions around the world. These are depicted as strong, beautiful female figures and for 2022 the two figures are of course, Polonia and Germania. Each coin in the series always depicts Germania, the mint's own female warrior.
The Polonia and Germania coins are available in 1 oz, 2 oz, 5 oz and 10 oz weights each with a very limited mintage. Just like the Germanias that preceeded this release, the 1 oz has the highest mintage of 25,000 but here are the specifics for each.
Germania 2022 Allegories Polonia & Germania 1 oz Silver - 25,000
Germania 2022 Allegories Polonia & Germania 2 oz Silver - 2,500
Germania 2022 Allegories Polonia & Germania 5 oz Silver - 500
Germania 2022 Allegories Polonia & Germania 10 oz Silver - 250
With Germania the coins within a series all share the same diameter but their depth changes to accommodate the additional weight.
This series is beautifully executed.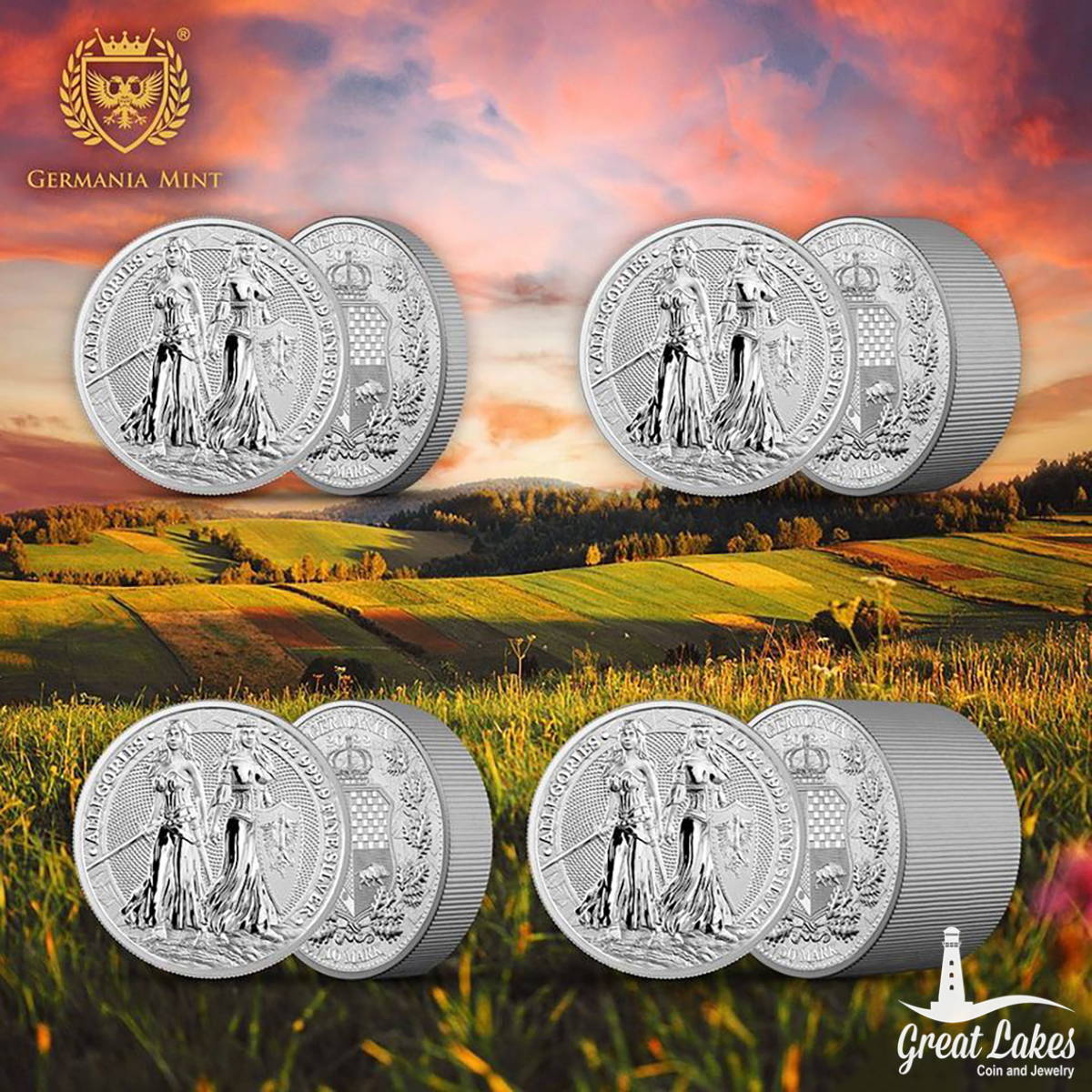 The obverse shows Germania & Polonia. Germania is depicted with her characteristic shield bearing the eagle crest of Germania Mint. Lady Polonia head is adorned with a crown, a symbol of kings, while Germania is crowned with a branch of an oak, the tree that has accompanied her from the very beginning of the series. Both heroes stand proudly, close to each other, signaling equality and friendship between the two cultures.
Where the reverse would traditionally feature a country coat of arms, Germania is a historical land and never identified as a country. As such the mint have created their vision of a traditional coat of arms with a spectacular result. The shield itself is divided into four segments. On the top left is the Bicephalous eagle, Germania's own symbol with two heads facing in opposite directions, symbolizing past and future. On the top right is a checkered pattern and refers to wisdom and prudence – characteristics of every noble sovereign. On the bottom left is a gold ribbon with three flowers. Flowers represent determining values of a strong and independent nation – unity, integrity and freedom. Finally on the bottom right is a boar, symbol of might and a very popular and respectful animal in Roman Empire. This is all framed by oak leaves, symbolizing loyalty, stability and national unity.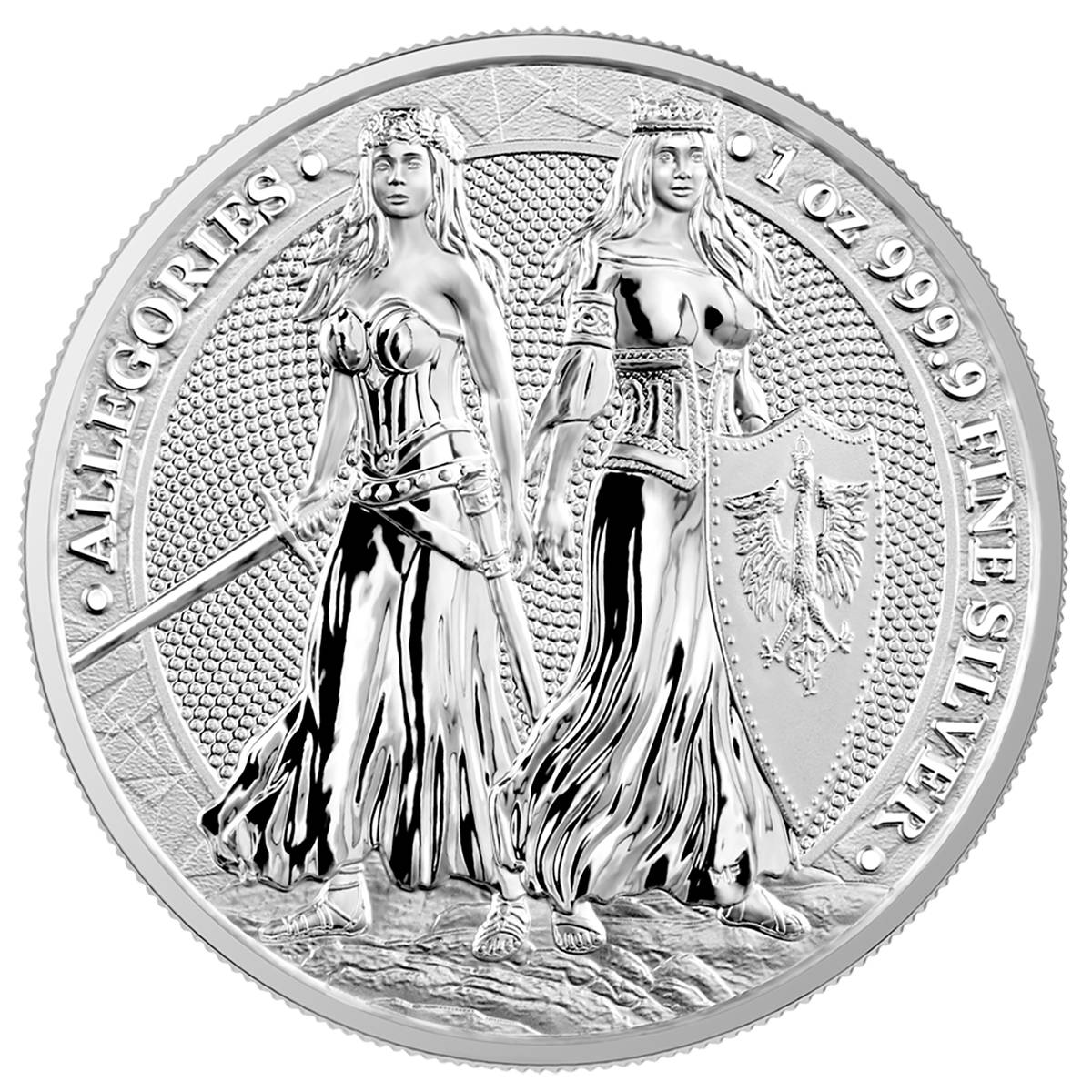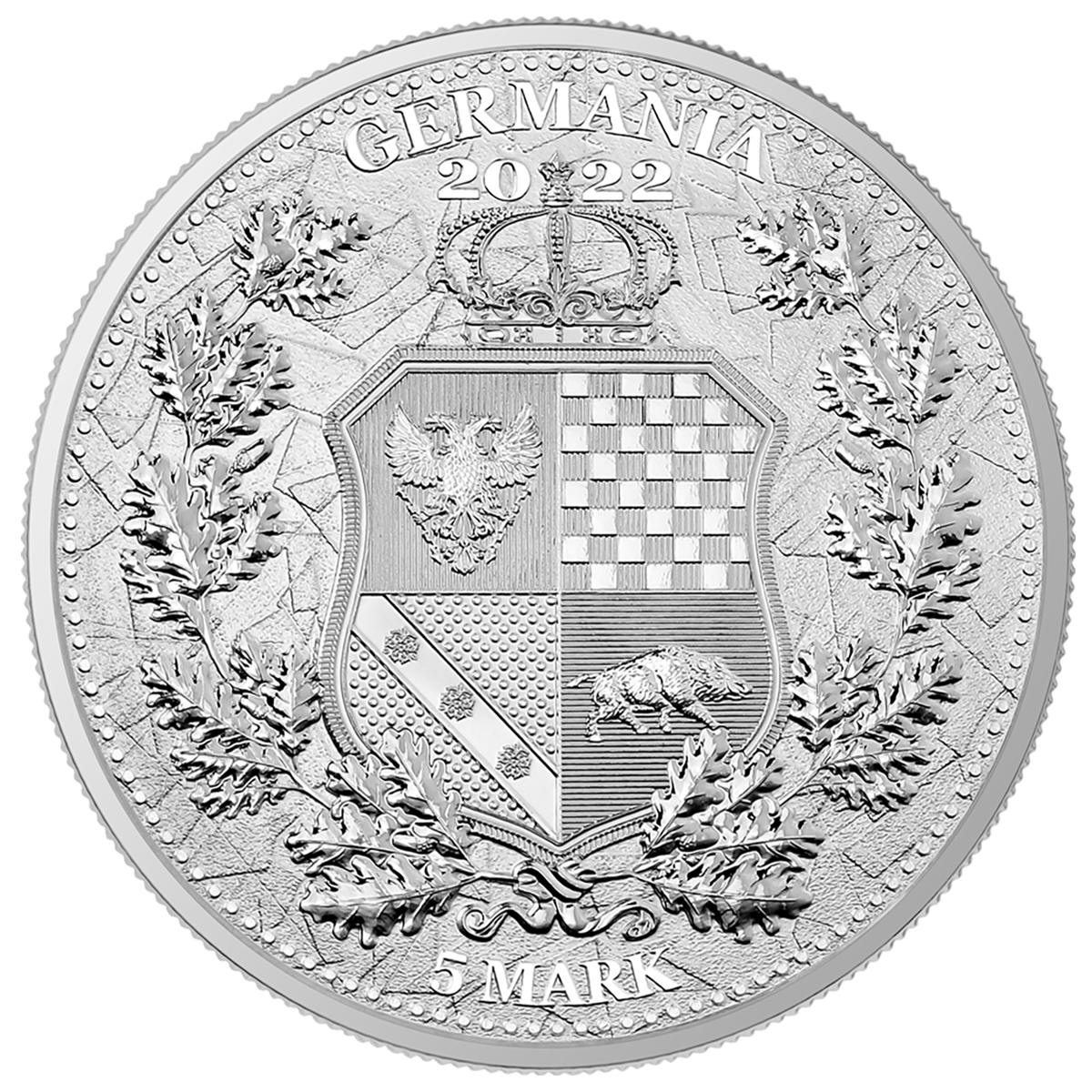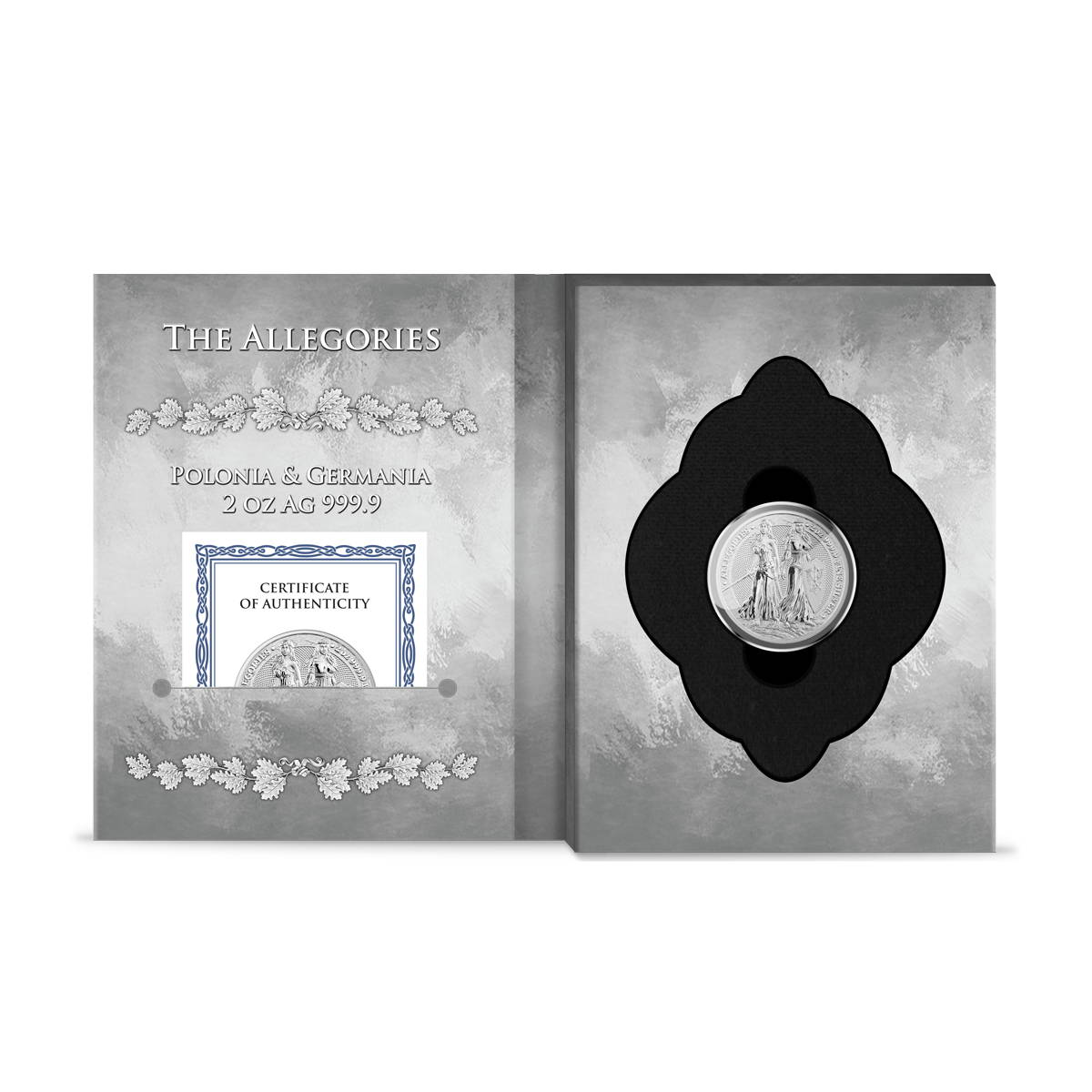 As with previous Germania numismatic releases, the stock we have on hand is all we can get. This means that once we are sold out, there are no further restocks available.
On that note we have a very, very small inventory remaining of the 2022 1 oz Silver Germanias, though the other weights are now long sold out.
It's worth noting that while all coins ship with a certificate of authenticity, the 2 oz, 5 oz and 10 oz are packaged in themed sleeves. The 1 oz have no special packaging.
As mentioned this is the fifth coin in the series though only the fourth annual release of the Germania Allegories series. The inaugural release in 2019, featured two different designs; Britannia & Germania and Columia & Germania. 2020 then depicted Italia & Germania with 2021 being dedicated to Austria & Germania. Though these coins are long sold out, their images are shown below for reference and it's never too late to begin a new collection.