The Wyoming Goldbacks are set to launch on September the 19th. This will represent the fourth state series for Goldbacks, with Utah, Nevada & New Hampshire preceding it. This release has been very eagerly anticipated.
Goldbacks are incredibly popular but also gaining new ground and attention very quickly. That's because they provide a practical, attractive and functional solution to the age old problem of how to use physical gold for everyday, tiny transactions.
With an increasing number of people turning to precious metals, including a younger generation, Goldbacks are providing a viable alternative currency that also offers exposure to physical gold with a low barrier to entry. At the time of writing our Goldback 1s containing 0.001 troy oz of gold, are retailing at under $3.90 each. We've always been of the belief that precious metals should be an option for everyone and Goldback facilitate this.
Further to that their artwork is brimming with nostalgic charm which appeals to many who yearn for simpler times.
Goldbacks are ultimately an alternative currency project and like all projects, they grow through exposure. Though legal tender in select regions, they can be used for trade or barter anywhere and it's exactly through this use that society will become more aware of their existance.
Here at Great Lakes Coin, we don't pre-sell any products. We prefer to keep things simple and only sell what's physically on our shelves. With that in mind the new Wyoming Goldbacks will launch on our website on September the 19th, which is the date we're permitted to begin shipping them. Until then of course, you can begin or expand your current Goldback stack via our website.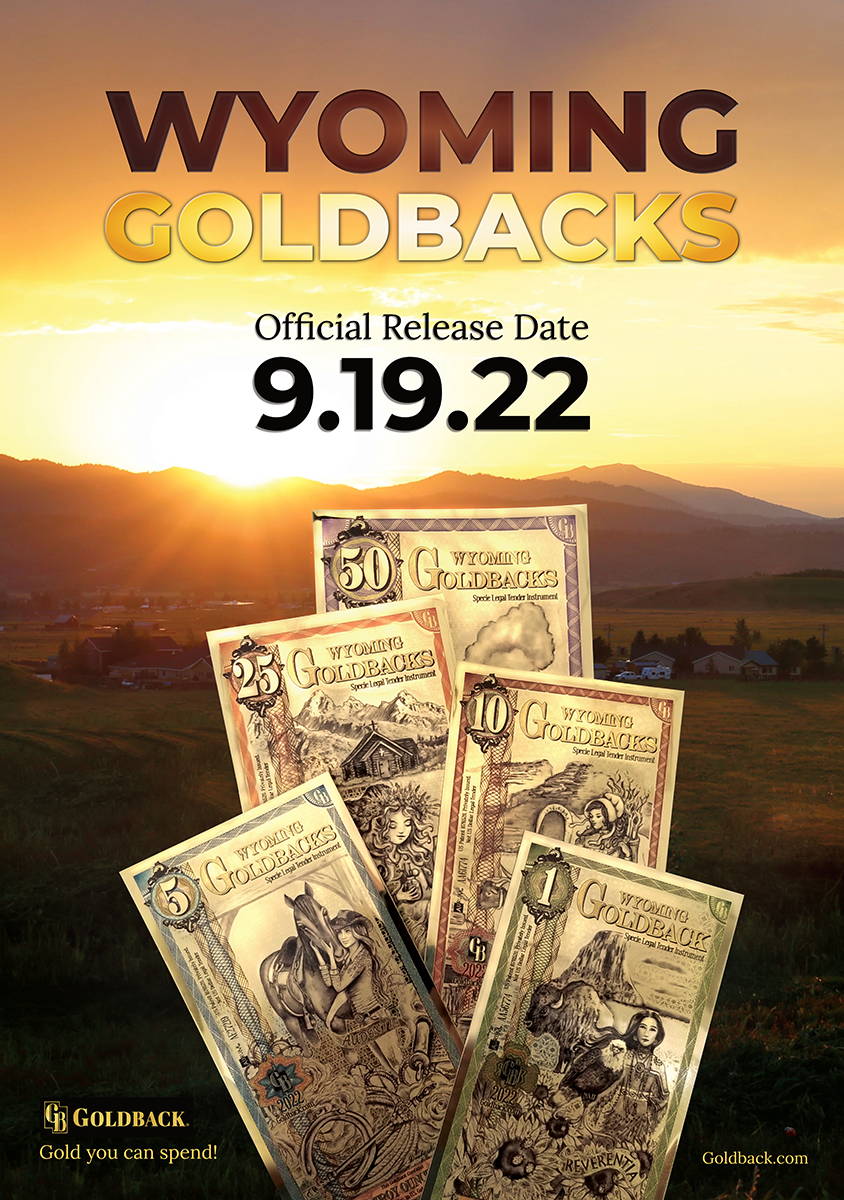 Though not yet on sale, we can share the images of the artwork used in the stunning new Wyoming series. They were definitely worth the wait.
Wyoming Goldback 1s - "In her first appearance on a Goldback series, Reverentia, or Reverence/Respect, is featured on the Wyoming 1 Goldback Denomination. She is depicted in this design as a Shoshone Native American woman wearing a traditional buckskin dress and standing in Wyoming's Northeastern plains region. Below her the caption reads "Revere what is Sacred".
Wyoming Goldback 5s - "Another first appearance in this series, the Virtue Audentia, meaning Boldness or Fearlessness, rides in. She is depicted here as a recently chosen rodeo queen in her formal performance attire and is accompanied by her faithful horse."
Wyoming Goldback 10s - "Yet another first with this series is the Virtue Fiducia, or Trust, making her debut on the Wyoming 10 Goldback Denomination. Accompanied with the phrase "Trust in the LORD", Fiducia makes her appearance as a pioneer woman and future settler of Star Valley, Wyoming. She is depicted here following the worn path of those who went before and exercising her best preparations in order to protect and follow her faith while trusting in Deity. "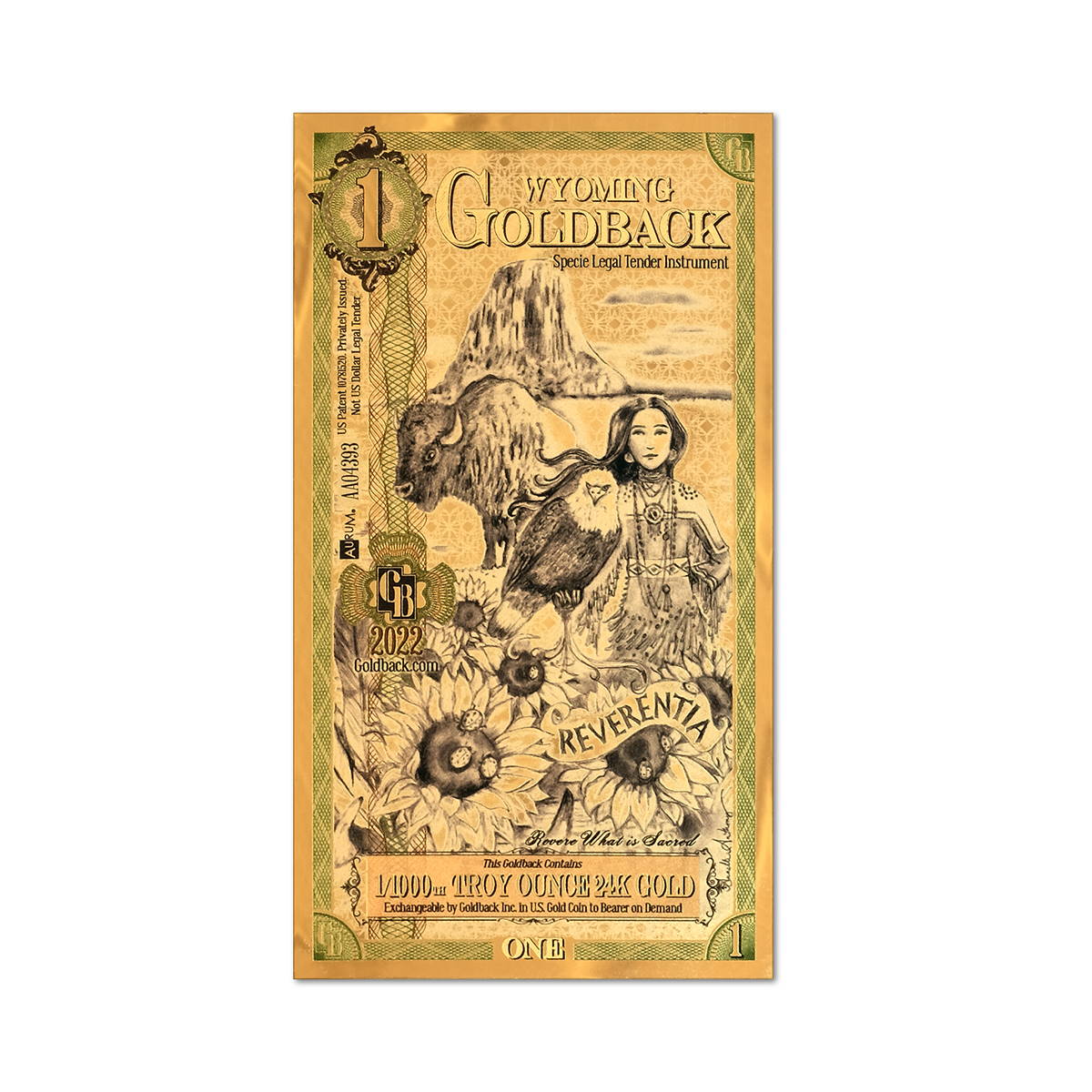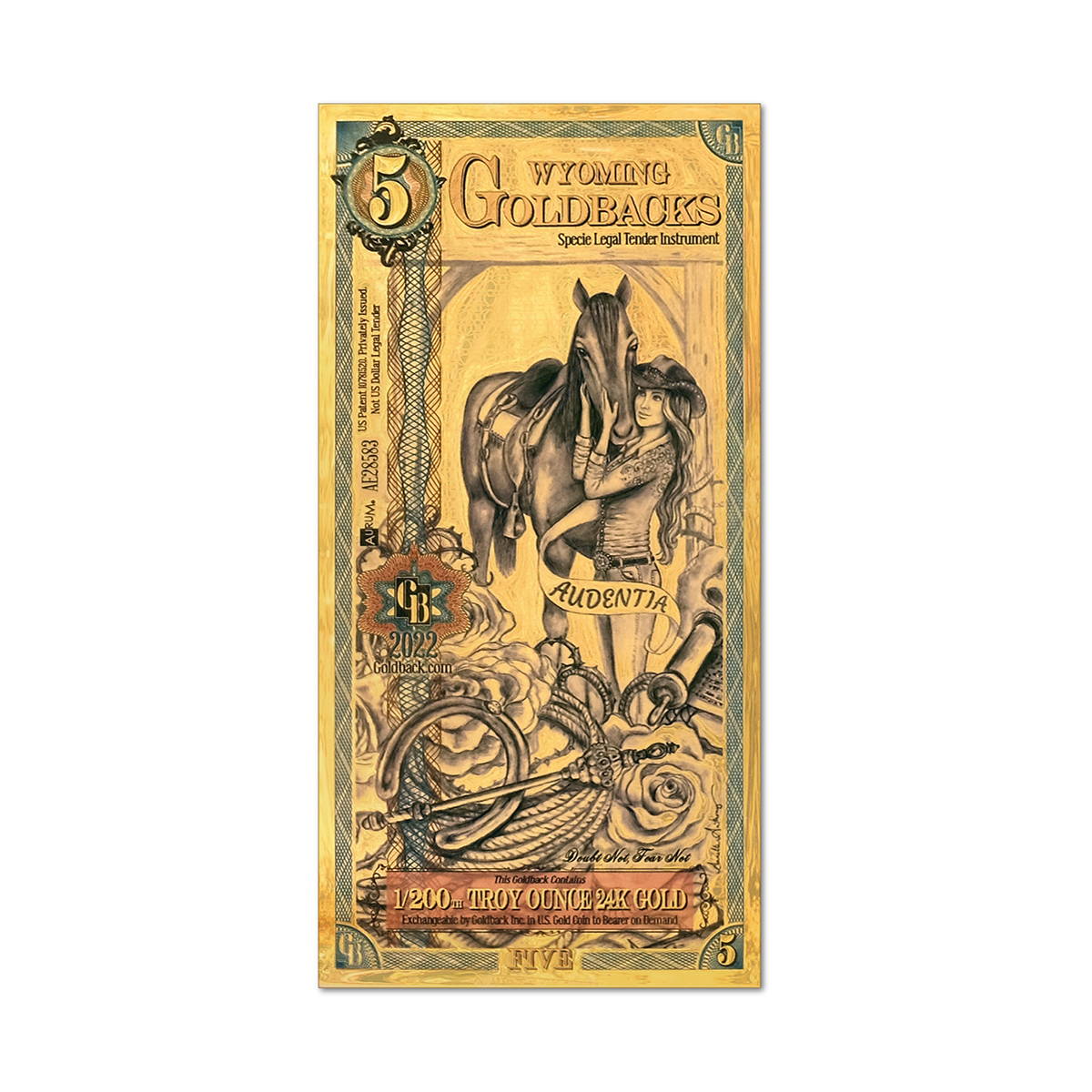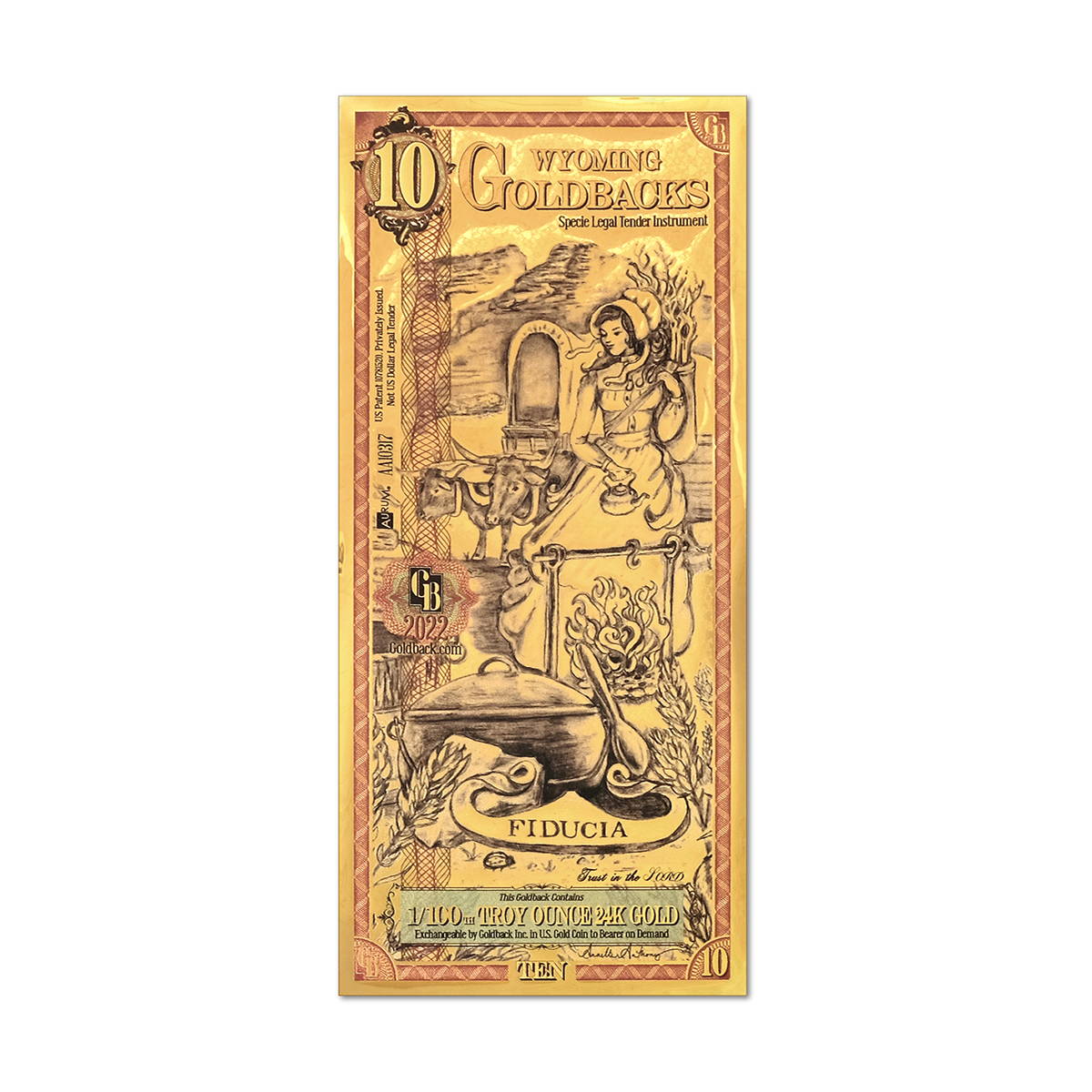 Wyoming Goldback 25s - "Fideletas, or Loyalty, is illustrated for the first time on the Wyoming 25 Goldback Denomination as a good ol' Wyoming ranch girl waiting for her groom to show up to their wedding. She is backdropped by the Grand Teton Mountains and the small log Episcopal Chapel of the Transfiguration, completed in 1925 and located in Grand Teton National Park. This depiction of Fideletas lends from the parable of the ten virgins from the Gospel of Matthew, and draws parallels between filling one's lamp with oil in preparation for a highly anticipated event and actions taken because of loyalty. Part of being truly loyal to someone or something is being ready and prepared to act on its behalf when the correct moment presents itself. In the spirit of this type of loyalty, Fidelitas can be seen sitting on the wooden fence, dressed in simple wedding attire, wearing a bridal wreath, holding a lit oil lamp in one hand and a cruse of oil in the other, and accompanied by the inscription "Faithful to the End".
Wyoming Goldback 50s- " As always, Libertas is the Virtue represented on the 50 Goldback Denomination. In this Wyoming Series Design, she is depicted as a mid-20th century hiker passing through Yellowstone National Park. The symbols that accompany her are influenced by the Old Testament story of Deborah, the Lady of Torches. Surrounded by wild flowering raspberries, she has a pack on her back and a flashlight in her left hand in the place of a traditional torch. In her right hand she is holding a walking staff, representing divine guidance, and on her left wrist hangs a canteen, representing life that comes from Liberty. Additionally, a sword hangs from her pack and a shield is at her feet, representing the constant need to be ready to defend Liberty from those who would seek to take it away."